JOIN US!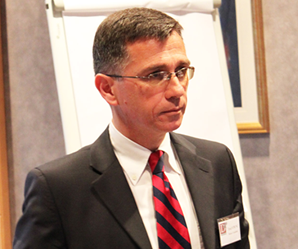 INTHERPRO SARL
As a provider of Negotiation Skill expertise, I have always faced questions from various enterprises such as "How many days is your Negotiation Skills training ?", "Could you send us the Standard Outline of your course to share it with course participants ?"; "How many coffee breaks per day during the course ?"; "Is lunch included ?" etc... How pleasant was my surprise during my first meetings with Debbane Saikali Group's HR and Training  & Development managers when the first question I heard was "Could we share the concerns and issues of our sales team with you Emil so we can work together to find out solutions which we would like you to include in your Negotiation Skills course ?"  This question defines very clearly the spirit of Debbane Saikali Group! It is all about giving their associates the right and efficient tools to face every day's business concerns. This has been confirmed during the courses when Debbane Saikali's participants were eager to catch all learning points and start implementing them in their business life. It was not about spending 2 days outside the company but it was all about how can I be an added value for a company which cares about my concerns and work hard to provide me with the adequate tools! How pleasant it is to share knowledge with such professional and motivated managers and associates !
Emil Strunc
Interprosarl
Pearl & Clark
Read more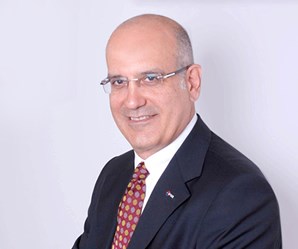 MY EXPERIENCE WITH THE DEBBANE SAIKALI GROUP
I have been involved with the Debbane Saikali Group since mid-2012 first as an Executive Coach and then later as a trainer.
The first impression I had when I first met the HR executives and some senior managers was one of a warm welcome. One could sense that there is a strong people focus in this Group. This has become very evident when discussing the training and development needs of some senior executives. The Group attaches a lot of importance to growing and developing their employees and I was impressed with the professionalism of the staff and the quality of the programs and activities they had in place.
As I worked with some managers of all levels, it became evident to me that they all had a strong sense of ownership. They all acted and worked as if they "owned" this company. That is a reflection of the fact that as individual they feel respected and appreciated. Also when conducting a training to middle managers it was refreshing to witness their eagerness to learn, their active participation and the positive energy in the class.
As a service provider, it is a pleasure for me to work with the Group and I appreciate the good partnership established with the HR department and senior executives.


Executive coach
Business and HR consultant
Rafic Azzam
Read more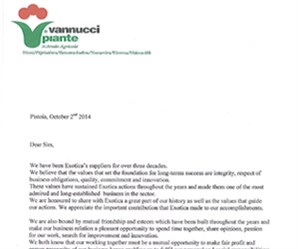 VANNUCCI PLANTE
We have been Exotica's suppliers for over three decades.
We believe that the values that set the foundation for long-term success are integrity, respect of business obligations, quality, commitment and innovation.
These values have sustained Exotica actions throughout the years and made them one of the most admired and long-established businesses in the sector.
We are honored to share with Exotica a great part of our history as well as the values that guide our actions. We appreciate the important contribution that Exotica made to our accomplishments.
We are also bound by mutual friendship and esteem which have been built throughout the years and make our business relation a pleasant opportunity to spend time together, share opinions, passion for our work, search for improvement and innovation.
We both know that our working together must be a mutual opportunity to make fair profit and ensure prosperity of our business, hence enabling us to fulfill our personal and social responsibility; sharing these common views make a value added feature to our partnership. 
Read more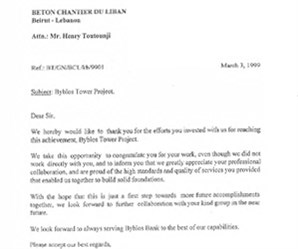 LA CONSTRUCTA
We hereby would like to thank you for the efforts you invested with us for reaching this achievement, Byblos Tower Project.
We take this opportunity to congratulate you for your work, even thought we did not work directly with you, and to inform you that we greatly appreciate your professional collaboration and are proud of the high standards and quality of services you provided that enable us together to build solid foundations.
With the hope that this is just a first step towards more future accomplishments together, we look forward to further collaboration with your kind group in the near future.
We look forward to always serving Byblos Bank to the best of our capabilities. 
Read more
JOIN US!